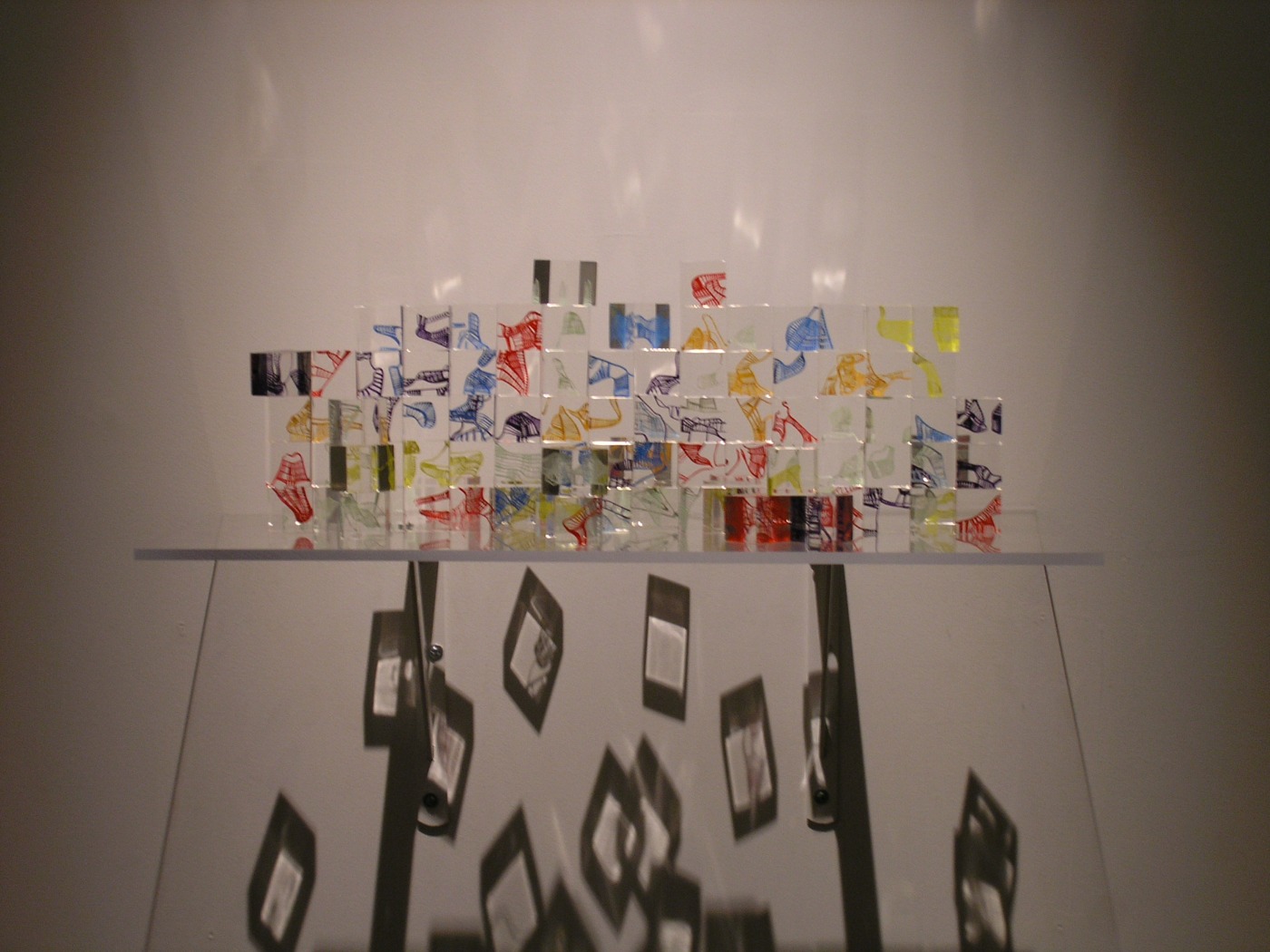 In this exhibition of recent works by Sheila Makhijani, both works on paper and an installation of painted acrylic cubes are featured. The artist has been meticulously perfecting her execution with gouache and employs a flirtatious nature of line to reveal the intimate and tactile relationship between paint and paper. Makhijani's paintings carve out an imaginary world of fantasy in a swatch of whiteness, barely visible in some cases, but in others, the grandeur and beauty are revealed on more intimate inspection. The installation of painted cubes, titled BUTPUTS, employs a deliberately playful interactive component as the painted lines reflect and refract with the cubes: creating a multi-dimensional experience of the world Makhijani has created. The works, seemingly deliberate and skillfully rendered, infuse legitimacy to the complex and whimsical forms created by Makhijani. They are intricate, delicately beautiful works that could masquerade as architectural blueprints of a futuristic structure or a cross-section of a micro-organism in their subversion of scale. The lines in the paintings are alive and function like us: they walk, meet, dart, swagger, turn, cajole, and erupt.
"The lines realize that maybe it is better to be a little tame and a little wild. With that they may reach a harmonious balance…and manage to create their own world."
Sheila Makhijani
Sheila Makhijani was born in New Delhi, India and attended the College of Art, Delhi, where she completed her undergraduate and postgraduate studies. She then studied at Kanazawa Bijutsu Kogei Daigaku in Kanazawa, Japan (1993). Makhijani's quotidian practice that has been rigorously maintained over the last three decades, as artists abandon painting for other mediums, Makhijani has steadfastly remained engaged in realizing its limitless possibilities. Makhijani's works have been exhibited worldwide, including at the Seventh Asia Pacific Triennial of Contemporary Art (APT) at the Queensland Art Gallery, Australia; The Museum of Modern Art (MoMA), NY; Kiran Nadar Museum of Art (KNMA), New Delhi, India; Gemeentemuseum, Netherlands; Perth Institute of Contemporary Art, Australia and Kuntsthal Rotterdam, Netherlands. Sheila Makhijani lives and works in New Delhi, India.